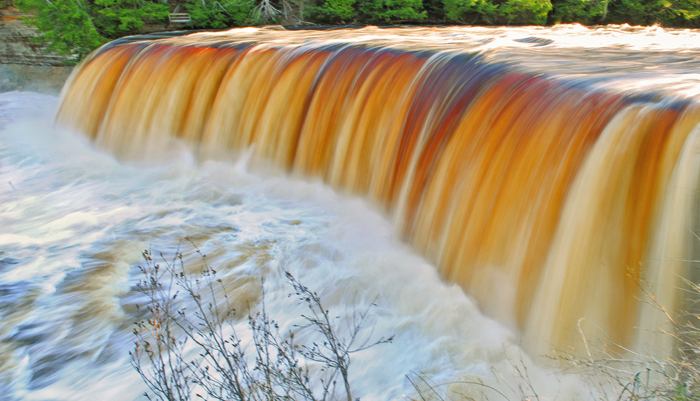 Gateway to the Tahquamenon Falls State Park
Plan a vacation that include the Upper Tahquamenon Falls and experience one of the United States most breathtaking waterfalls. Set within a pristine wilderness, the Upper Tahquamenon Falls is over 200' wide and 48' high. Over 50,000 gallons of water spill over this incredible waterfall per second. Seasonal precipitation can increase or decrease this amount significantly with springtime being a great time to see it at its peak (as seen in the photo on the left). A magnificent walk path will direct your way through the forest within the Tahquamenon Falls State Park.
As you get closer to the viewing decks, you can hear the growing sound of water flowing and falling. It is truly an awe-inspiring experience for all ages. Please note that there are 94 steps down to the main viewing deck at the end of the walk. On the platform below there is a bench to sit and rest on while taking in the beauty of the falls.
Within the Tahquamenon Falls State Park you will find many activities such as birding, fishing, hiking, sight-seeing, camping, snowshoeing, cross-country skiing, and snowmobiling. Wildlife abounds throughout the Tahquamenon Falls and by chance you may see black bear, whitetail deer, and moose, along with a variety of birds.